Free SMS Worldwide
By using a quick tip you can save a lot of money on sending text messages to your loved ones living abroad.
By this method I am sending unlimited free SMSs to my sister who lives in Saudi Arabia.
So just copy my steps.
Step 1: Create an Account on Twitter:
If you don't already have an account on Twitter, create one. I have explained briefly how to create a Twitter account. It is easy to make. If you are facing problems creating twitter account, go to this article and follow Step 1.
[ Don't Miss: Facebook Photo Sync – Free/Private Photo Storage for Your Phone ]
Step 2: Activate Twitter Mobile:
It is also very easy to sign up for twitter mobile. If you have twitter mobile enabled, you will receive SMS updated of any retweets, mentions, or direct messages at twitter.
If you face any problems in activating Twitter Mobile read this article and follow Step 2 where full method is taught with screenshots.
Step 3: Tell the other Person to Activate Twitter for Mobile:
In order to send texts on your friend/relative abroad, he (relative) must have a Twitter account with Twitter Mobile activated, so that you both can conversate Mobile to Mobile.
[ Don't Miss: 5 Top Secret Ways to Earn Money through Blogging ]
Step 4: Send Message:
Both of you should follow each other on Twitter. Now whenever you want to send him/her a message, send him/her a Direct Message on Twitter, he/she will receive that message on his/her cell phone also.
See the images to guide yourself.
Select the person you want to send message
and choose Send a Direct Message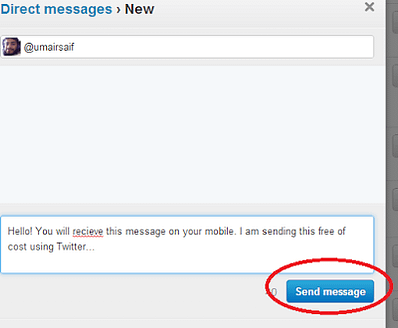 Now write your message and Send it.
Tip: You Can do this with more ease if you have GPRS/EDGE enable mobile phone. Just use Twitter on your mobile and send Direct message to the person you want to send SMS to.
Enjoy Free Text Message all over the world. And contact me in case of any queries.
Thanks for Visiting.
[ Also See: 11 Killer Tips for Better TWITTER Marketing ]