Foxit Reader fans often find annoying advertisement / ads on the toolbar and other places. Though these ads occupy a small space and don't interfere, but their color scheme is often unmatched. Therefore, it causes a distraction for viewer while reading PDF documents. Most probably, nobody clicks or visits those ads and these are almost of no use rather disturbing the reader. So it's desirable to get rid of them.
Some people find themselves struggling to get rid of these advertisement pieces, but often end in failure. These ads are opened in every tab, every time you open the program. No matter you click it or not, they are not likely to leave you focused on your work. Well, some users may claim that these ads are just normal and don't cause any distraction or disturbance for them. That's good as they have better focus power. But everybody is not that much luckier! Anyhow, that's much for the introduction, let's go into solution now.
Foxit Reader ads can be removed / hidden by almost the same trick that we used to disable start tab or page in our last tutorial. There is a slight variation that we are going to learn.
Remove Advertisement in Foxit Reader
Open Foxit Reader.
Click on 'File' menu and select 'Preferences'.
Preference dialog contains panes/sides interface. Left side has some labels and their related options are opened in the right pane when you click any of the labels. Click on 'General' button/label in left pane.
Options of 'General' label will be displayed on the right side. Here on the bottom, there is a section 'Application Startup'. It contains two options. Uncheck 'Show Advertisement' to disable ads.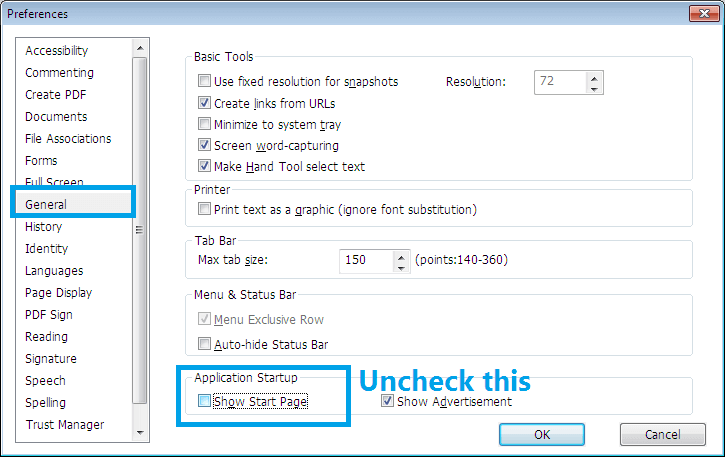 Click Ok to save changes and the ads will be removed/hidden promptly. This does not require an application restart.
Enjoy even more clean PDF experience without advertisements. And don't forget to share this tiny useful tip with your friends and acquaintances. Share your experience in the comments and let us know if you encounter any issue. We'll try to help you.