Technology is changing faster than ever and when it comes to mobile batteries, they LIVE-DIE-REPEAT. The most worrying issue with every smartphone is the battery life. To solve this problem, Apple has invented a new product called the "Smart", a battery case to prolong iPhone's battery life.
There are many ways to increase the longevity of the battery which includes carrying power banks, optimizing mobile to saving mode, installing battery saver apps etc.
In order to delay the inevitable passing of the battery life, Apple has come up with a lithium-ion (Li-ion) case called "Smart" which can potentially increase the longevity of your iPhone.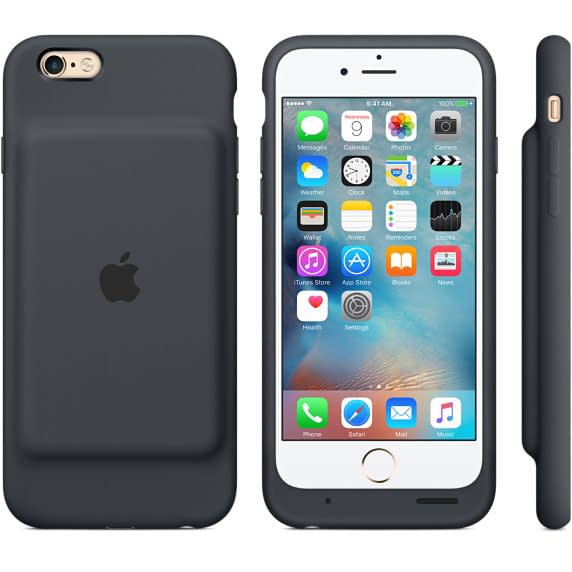 Simply get the smart case and attach it to your iPhone. It doubles the battery capacity. You can browse internet up to 18 hours on LTE and video playback up to 20 hours before it goes off. It is currently available in white and charcoal-gray.
Sounds good, right? But Lauren Goode at The Verge said, it looks like an iPod that devoured an iPhone. But Apple's is not the only battery case that is bulky. Besides, regardless of people saying it's 'ugly', it has a soft micro-fiber lining that protects your iPhone. Not to mention it's soft-touch exterior.
You're gonna have to forgo the bulky battery case for longer lasting battery for your iPhone for the time being.
Paul Shearing, a chemical engineer at the University College London in the United Kingdom says, there are other ways to prolong your battery life without getting this bulky case.
Switching off the Wi-Fi or GPS and stopping unwanted notifications can stunningly helps in power-saving. The main problem with notifications is that it runs in the background and keeps checking for latest updates at certain time intervals. This is one of the main tasks that drains out the battery.
Another important thing to do is to leave the phone charger connected to the socket. It won't damage your phone. Major smartphone manufacturers construct battery management systems into the devices to make sure that mobile batteries do not charge forever, which would be a serious issue if it were permitted to happen. These systems incorporate accompanying applications and a circuit board, which collectively function as a kind of mini computer that modulates the battery of your mobile.
Although today's smartphone battery management systems are smart enough to avoid over-charging, the battery size is still big and not quite long-lasting enough for many users. That is why Apple is now trying to solve this issue with their battery-boosting phone cases. Not only this will prolong the life of the battery but also protects your phone.
In the event you are holding out to get a cell phone using a super-long battery life, perhaps you are waiting a while more. Shearing said the next important energy storage breakthrough will be the development of lithium-air batteries that "breathe" out atmosphere as they charge. So do not hold your breath.
Below are the few simple known tricks you can follow to improve battery life:
For quicker charge avoid using the mobile while it's connected to the socket. Let it have a hassle-free feeding. Turning off mobile data or Wi-Fi can speed up the charge
Keep the brightness accordingly
Clear unused recent apps as they run in the background which not only consumes battery but also the RAM
Do not keep the Camera or Video recording in Standby mode. Open it when necessary
Set the mobile to sleep after 30 second of inactivity
Use an app for tracking CPU usage to monitor the heat level
Never install high power consuming apps unless they are really necessary
Turn off Wi-Fi, GPS, Bluetooth and Wi-Fi hotspot when you don't use them as letting then run would cost you a lot
Always charge your mobile when it reaches 30% or below without letting it drain out completely. Using the device with below 30% of battery level consumes more quickly than it normally would