[color-box color="white"]Windows 10 build 10586 November update aka TH2 (Threshold 2) got Title bar colors, but for only active windows. Inactive Title bar still has white/gray color. A registry tweak can bring color to inactive Titlebar too.[/color-box]
Starting from the preview builds of Windows 10, all versions used to approach user desktops with a white/gray dyed Title bars. It might not be frustrating you if you work in a bright environment with a plenty of lights around your workplace. Perhaps you feel comfortable to see bright things, which is a plus point for you, but won't it be nice if you can change the color according to your choice or background image? It surely will look great as compared to see a mono-color bar all times.
People who don't like this color will be glad to know Microsoft has listened to them. Windows 10 November update (which is also called Threshold 2 update) doesn't limit you to the boring gray/white color anymore. That's exciting, however, it only works for active windows. Inactive Title bars still have to suffer from the old day's color which isn't a good combination, of course.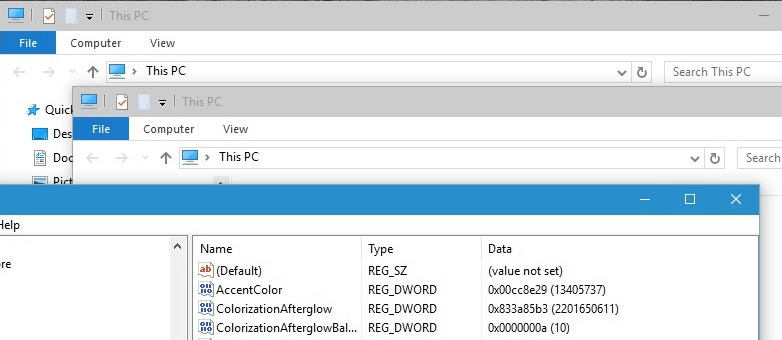 Though, Windows 10 is getting better with every update and it's highly expected that Microsoft will address this flaw in next update, users can't wait for the upcoming update. Some geeks have discovered a fix for this 'bug' and it works pretty well without any serious issue or failure.

How to Bring Colors of Inactive Title bar in Windows 10
A simple Windows Registry trick can fix this annoying problem. This won't take more than 2-5 minutes if you're already familiar with the registry editor. Don't worry If you never had played with registry editor, you'll be guided thoroughly. You just need to follow the steps given below:
[color-box color="red"]Manipulating Windows Registry can be risky for your operating system. Make sure to follow the instructions carefully in order to safeguard your Windows 10 from crashing, security leaks or other hazards.[/color-box]
Open Windows Search and type Regedit. Select the application as shown in the screenshot below: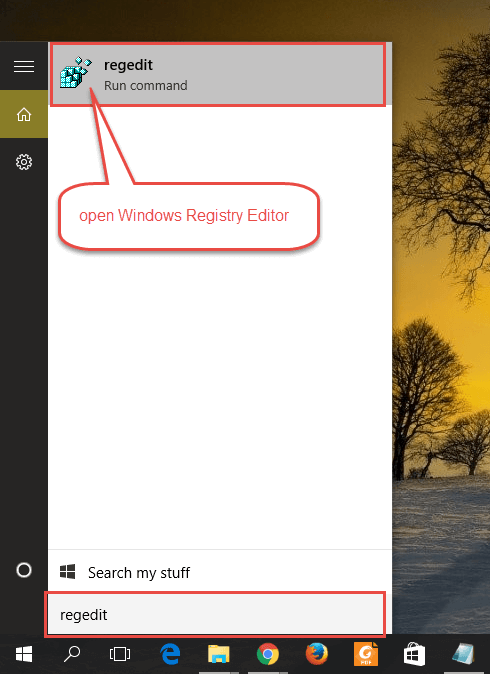 Accept the UAC prompt if it appears in order to permit the program to run.
Navigate to the following key:
HKEY_CURRENT_USER\SOFTWARE\Microsoft\Windows\DWM
Right click in the right pane, and select New > Dword (32-bit) value. A new registry value will be created.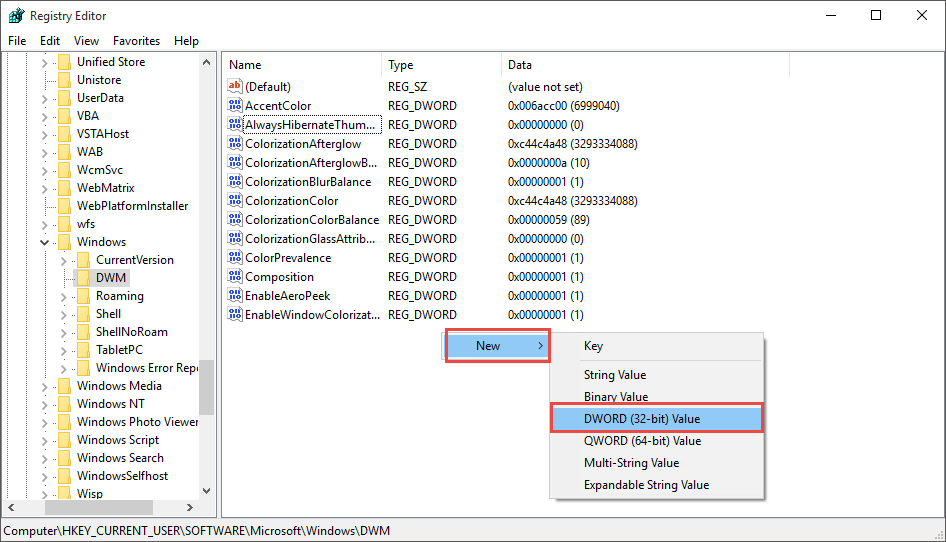 [color-box color="blue"]You have to create Dword (32-bit) value. No matter if you have Windows 10 64-bit or 32-bit installed on your computer.[/color-box]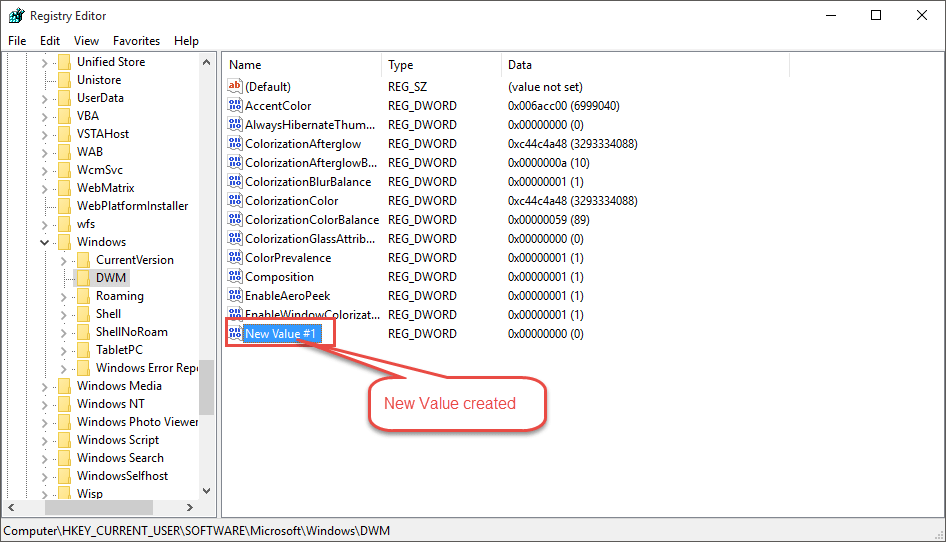 Name the newly created value to AccentColorInactive.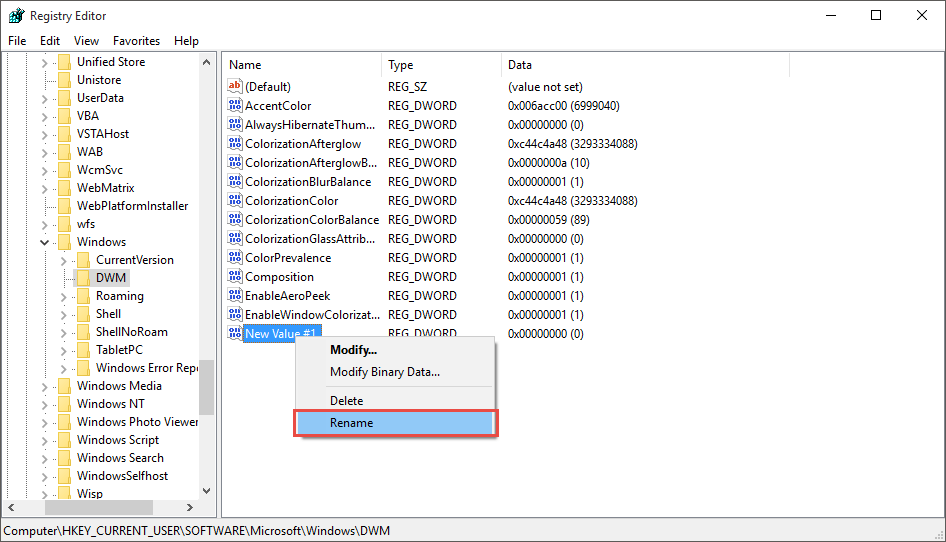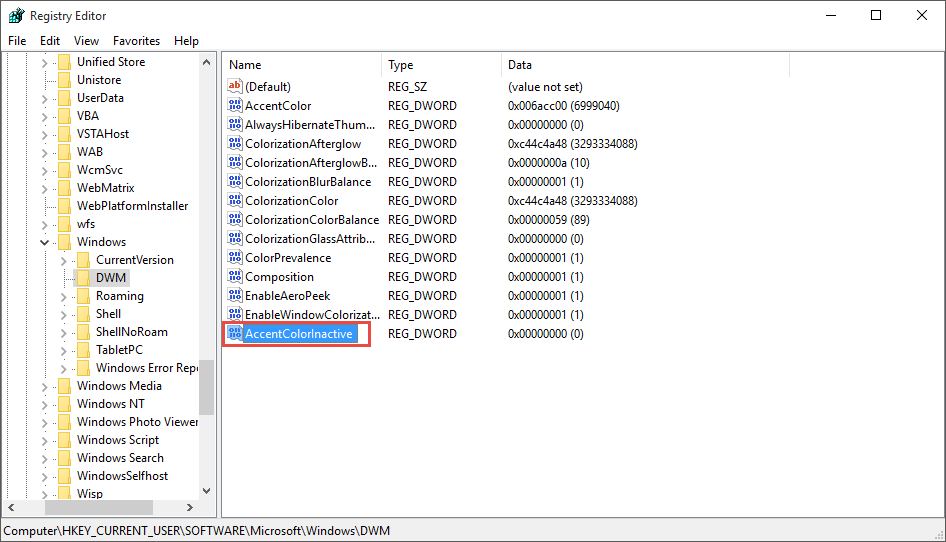 Now look in the list of registry values and find AccentColor. Open it and copy the value given in the text box.
Now come back to the value you just renamed. Open by double click/tap or right click and select 'Modify' from the menu. A dialog box will open with an editable text box. Paste the value and press OK to save the value.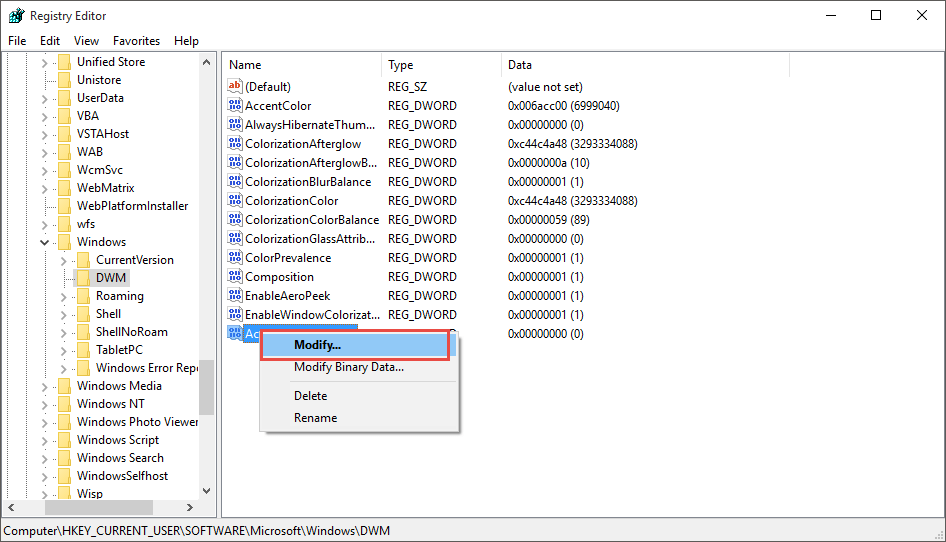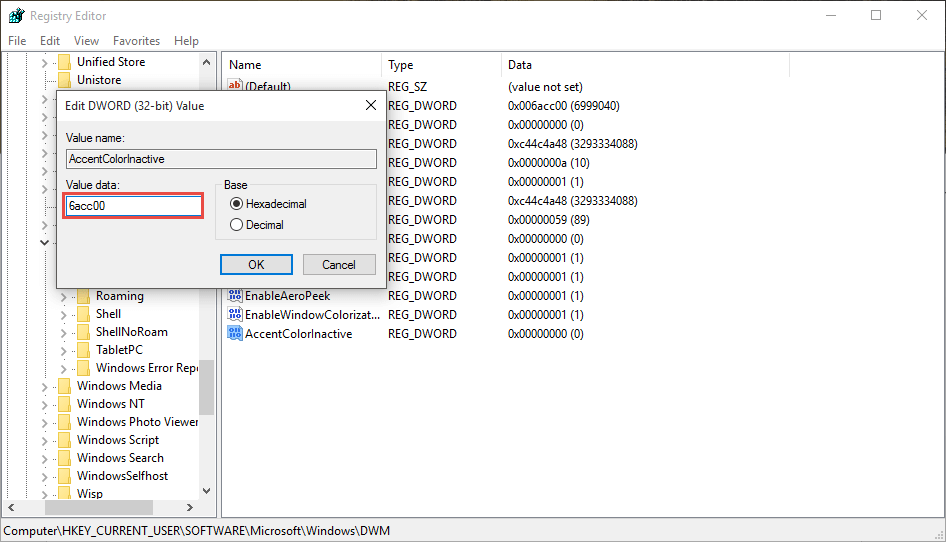 All done. Close the registry editor and enjoy colors on all Title bars on your desktop.
[color-box color="green"]Rather than closing the Registry window at once, you are suggested to close every key in the right pane in the same sequence which you followed to navigate to the required registry key, but in the reverse direction. In simple words, reverse the navigation process and close all keys (same like folder view in File Explorer) until you reach the grand-parent keys set. However, this is totally optional. You can skip this method.[/color-box]
How to Remove Colors of Inactive Title bar in Windows 10
If you find colors on inactive tabs not pleasing to your eyes or you want to remove the colors and bring back the old style white/gray color, all you need is navigate to the registry location where you created the new value and delete AccentColorInactive value which was created by you.