A stylish, scratch free touch screen is the grace of a touch phone.Whether it is iPhone 4s, iPhone 5, Samsung Galaxy S4 or any other smartphone or touch phone, the real value of it is dependent on luster of its touch screen. So, I've come up with some tips to keep your iPhone, Galaxy or any other touch phone completely scratch free with an "ever-fresh" look.
Tips to Keep Your iPhone | Android Smartphone | Samsung Galaxy | and other Touch Phones Scratch Free: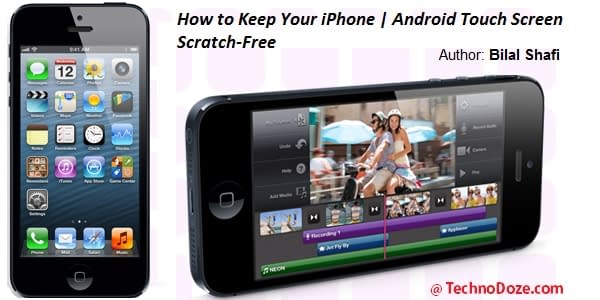 How to Keep Your iPhone | Android Smartphone Scratch Free
1. Never use dirty hands on your smartphone / iPhone.
2. While cleaning your iPhone / smartphone use Microfiber cloth or a similar, soft and lint-free cloth.
3. Turn off your cell phone before cleaning.
4. Use a high quality screen protector.
Screen Protector
5. Its best to use touchscreen targeted cleaning agent found at gadget stores.
6. At least twice a day, breath over your smartphone touchscreen and clean it with a soft cloth.
7. Never apply daily use water on your smartphone.
8. While keeping your smartphone in your pants, wound it in a soft cloth to protect from roughness of the pant cloth.
9. Never use tissue paper or towel cloth to clean your smartphone / iPhone.
I hope these tips are gonna help you. Give your comments, I'll be waiting for them.