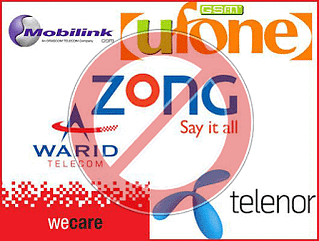 Mobile SIMs blocked
12-January-2013:
Today, when I tried to dial a number from my Cell Phone, I came to know that my number was blocked. And I was shocked!
Then, I called the customer service center to know what was happened to my number.
They informed that my number was blocked as per PTA directions insisted by Interior Minister of Pakistan, Sen. Rehman Malik.
When I asked many of my friends, some of them were also facing the same issue.
How to unblock your blocked number???
If you are facing the same problem you need not worry any more about it. Because the problem is as easy to solve as it created.
You will have to do the same which I did to unblock my number.
If your number is on your name:
Just call service center of your prescribed mobile company (Ufone etc) and tell them to unblock your number. You will have to tell them your Computerized NIC Number. And then in no time your number will be unblocked.
If your number is not on your name:
In this case, you will face a little difficulty. You will have to go to the service center of your company and give them record of last five phone calls dialed by you. If they find the record right, they will unblock the number and will name it on your NIC.
You will also need to be elder than 18 years because if you don't have a Computerized NIC Number, you can not unblock your number. In that case you will have to do without mobile phone. 😉
I hope this article will help and guide you.