GTA has the privilege of being one of those games with a loyal fan base. Almost every gamer can agree to the fact that GTA 5 is the game that one has played and can never get enough of it.
Of course, to maintain its reputation the creators also have to work hard to up their game a notch. So, this time around they have come up with 'GTA 5: Online Heists.'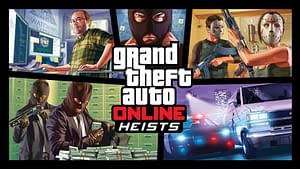 Release Date:
The game is expected to be released this coming week on the 24th   of February, 2015. So if you're wondering what makes this game different than the earlier versions then let's have a look.
According to a post made by the Rockstar games on their official website,
"Grand Theft Auto Online heists allows players to plan, prepare and execute multi-tiered Heists across Los Santos and Blaine County. These will need tight communication and coordination, with players taking on specified roles at each point to accomplish multiple objectives on the way to each Heist's epic finale. Featuring new gameplay, new vehicles, new weapons, new clothing and much more. "
Official Trailer:
The trailer posted on the same day showed a lot of scenarios from the game.
http://www.dailymotion.com/video/x2cp1kk_grand-theft-auto-online-heists-trailer_videogames
Bank robberies was one of them (how could that be missed?). The best part of the trailer was that it ended revealing that the game will be available to all the gaming consoles. Yes!!! That's the best part. The game will be released on PC, Xbox 360, Xbox one, PS4 and PS3 (Rockstar Games sure know how to make their fan base happy).
The internet is also buzzing with leaked photos of the new game. The creators confirmed that the game is for four players, which might be a negative for some gamers. The leaks show that the game might include teams of two fighting against each other.
New Vehicles in GTA 5: Online Heists:
The Leaks also showed seven new vehicles for the game:
Lamadati Casco, Dinka Enduro, Vapid Guardian, HVY Insurgent, Karin Kuruma, Karin Technical and Principle Lectro.
Customization Features in GTA 5: Heists:
Apart from the vehicles, the alleged leaker also says that the players will be able to change their crew's getup, gear, looks and the wheels of the cars can also be customized.
Let's keep our fingers crossed that this game will be worth waiting for.
Disclaimer: Content on TechnoDoze.com might be written by third-party authors and we bear no responsibility for any copyright infringement, in case of any complaint write us using this form. Read more here.