If you want a person to take notice of a particular comment you give at a Facebook post, it is quite easy.
The target person will get a notification about you mentioning him and in this way you could draw attention of a particular person.
Method:
Click on comment on any post.
1. To mention a person write the letter @ :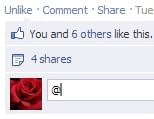 Step 1
2. After it, write the first alphabet of the name of the person you want to mention and select from the list appearing below:
Step 2
3. Give space, write your comment and hit enter to post comment.
Final Step
Note: This method could also be adopted to mention a person after writing a comment or between a comment.
I hope you liked this tip.. 😉