Christmas is coming soon and so the New Year. There will be a lot of shopping involved and sometimes it really is a struggle to find trending gifts. Guess what? IBM's Super Computer "Watson" is going to blow your mind. IBM Watson Trend app is released for people who need help for shopping.
Watson will help you by providing information on trending products in this holiday season. It analyzes your most recent buying pattern and show you the latest shopping trends that are suitable for you. This Artificial Intelligence app has cognitive power that will also predict the strength of different trends.
Watson's official website claims that it has the potential to help you find products that suit your need. It will know which toy will make your kid happy.
Watson analyzes your online activity such as blogs, social networks and wherever you converse with people. As much as it might sound like a privacy issue, after all, it has to get some information in order to better assist you, right?
This is how it works. It will analyze the pattern and returns a score from zero to hundred. This is the score of the product's trending strength so that you can make a purchase based on the score.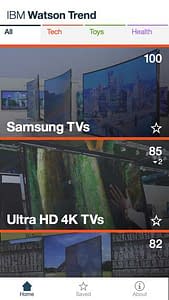 IBM Watson Trend app is now available for iOS users. All you have to do is tap on the product's image and you will get a score history, community comments and photos. Basically everything you need to know about the product and its trend.
This app will help you find trending consumer electronics like Cameras, Speakers or TVs and the company also planning to extend Watson's ability to offer assistance in health and toys category.
Generally, market analysts depend on various things to predict product sales but it is not one hundred percent accurate. If Watson can analyze most accurately than a typical analyst, there will be a huge demand on Wall Street for IBM.
Watson predicted that Apple Watch is very popular and will be the trending gift in this holiday season. Apple will soon release its earnings report by the end of December. If the report would come out as same as Watson's prediction, its going to get a lot of attention around the world.