A guide on how to install Google Services Framework (GSF) without PC on your Android phone/tablet.
So you found your Google apps not working properly and error messages tell that you've gotten rid of GSF.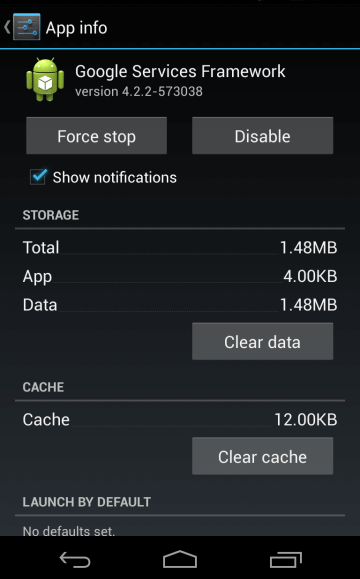 It doesn't matter if it was deleted accidently or you forced it to get lost of your phone, you're the boss and you did whatever you wanted with your Android device.
But hey, did you know you kicked another boss? The manager of your phone that actually was responsible to manage the Google apps for various tasks such as update them regularly. Background services are extra.
I really don't want to blame you for that. It just happened. Now the question is, is there any way to repair Google Framework on your device?
The answer is, may be Yes or No. It essentially depends on what happened to the framework?
If you'd suspended that poor GSF rather than firing from the job, boss! Then you're lucky enough to call it back to work just by repairing Google Framework.
But, but if you were really angry and hadn't punished GSK anything less than banishing or even killing, then you're out of luck. Well, actually not totally but you'll have to do something extra that surely sounds like you'll have to reinstall Google Services Framework.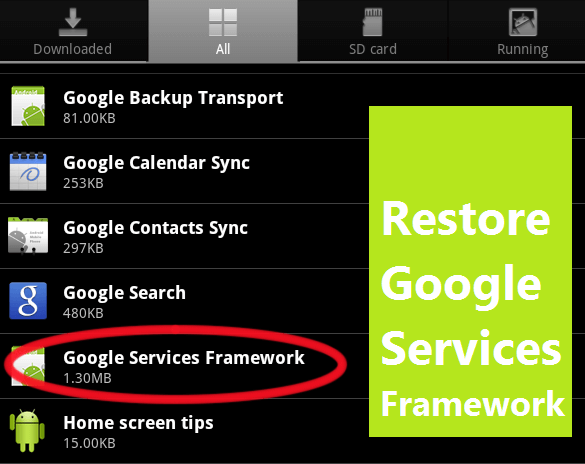 Repair Google Services Framework
If you are asked to install Google Services Framework on a not rooted or unhacked Android device, then you should have to revisit your apps list. It might be installed, not removed.
GSF can't be removed on an unrooted Android device. It's protected by default and users have no permission to remove it even if they wish so. You'll need to break the security system of your phone by rooting the Android OS.
If you try to install APK file of Google Services Framework from internal memory or SD memory card, you'll see a certificate error even if you disable almost all security checks from settings.
So if you have a device that is not rooted and you face such type of problem, here is a simple solution to this terrible problem:
How to Repair Google Services Framework on unrooted Android device?
So it's obvious that GSF is not deleted from your phone. Neither can you install it officially nor from an external APK file.
Now more than probable, chances are you have disabled Google Services Framework accidently from apps, not deleted actually.
So all you need is enable it from settings. Here's how:
Go to the apps
Scroll down to all apps and find this app in the list.
Just Re-enable Google Services Framework and that's all.
Enjoy everything working as it before you accidently disabled it.
Install/Re-install Google Services Framework
If you actually deleted GSK in case of rooted device, you would have to download and install it.
An APK file is usually used for this purpose. Just download APK for Google Services Framework from some trusted APK hosting and sharing website, place it in either internal memory or SD card and install it.
Any of the above solutions should surely work for you. But if this doesn't, tell us about it by using the comment box below. We'll help you.