What is Facebook Photo Sync???
Option of Syncing on Android
This is a great new feature by Facebook for Android, iPhone and iPad users. It allows the users to sync their newly taken pictures to sync automatically with your Facebook.
In other words if you have Facebook Photo Syncing activated, your phone automatically uploads all the pictures you take to the Facebook.
Fully Private:
The folder on Facebook which is used for Syncing mobile images is fully Private and is only visible to You!
So it also acts as partial storage of your photos, in case some of them are deleted from your phone. This is in my opinion, a really rocking tool introduced by Facebook.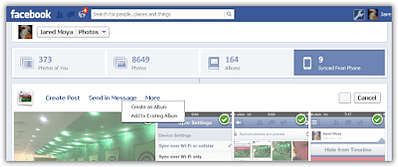 Synced Photos
Easy to Activate and Deactivate:
It is absolutely touch-and-go in activating and deactivating.
Method:
To sync your photos you need the latest version of the Facebook app installed on your phone. For an iPhone, you'll need to be updated on iOS 6.
From the app:
1. Go to your photos app in the left side navigation
2. Tap Photos
Synced Photos Notification
3. Tap Sync at the bottom of your photos section. Follow the step-by-step instructions.
From your computer:
1. Go to your timeline
2. Click Photos
3. Click Synced From Phone at the top of your photos section.
The limit of syncing data is 2GB, yet it is expected to be increased in future. In short, this app is a great new innovative feature to make our phone Portable Photo Sync-er.